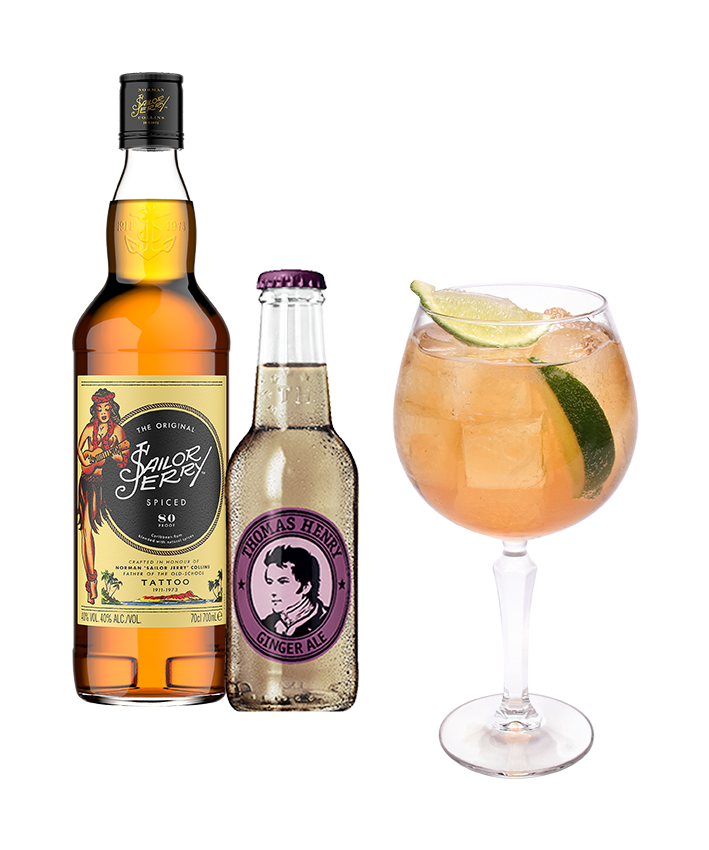 Eenvoudig te bereiden in 3 stappen
Schenk de Sailor Jerry in een met ijs gevuld groot wijnglas.
Vul de rest van het glas met Thomas Henry Ginger Ale.
Knijp de limoenpartjes uit boven het glas, voeg toe en roer kort.
Ingrediënten
- 40ml Sailor Jerry Spiced Rum
- 150ml Thomas Henry Ginger Ale
- 2 limoenpartjes
Tools
- Wijnglas
- Jigger
- Spoon
Flavour
Fris, Intens, kruidig
Sailor Jerry Rum Caribbean
The original "Sailor Jerry" known the world over for solid, bright, neat tattooing "my work speaks for itself". The undisputed father of the old-school tattoo, Norman 'Sailor Jerry' Collins built his rep tattooing in Hawaii's brawling Hotel Street district of Honolulu, where sailors and soldiers came to raise hell before heading off to war. He was a master craftsman of unflinching integrity and in his name, we make our rum. Blended with the finest rums form the Caribbean and our unmatched recipe of natural spices. Made the Old-school Way. 80 Proof. Bold & Smooth as Hell.
Meer informatie over Sailor Jerry Rum Caribbean